Wij sponsoren de halve finale van Sterkste Man van Nederland
Aanstaande zondag, 26 mei, wordt in Gaanderen bij Doetinchem de derde kwalificatieronde gehouden van de Sterkste Man van Nederland.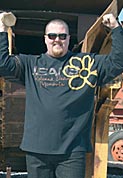 Als kledingspeciaalzaak voor de grotere en bredere stoere man zijn we trots dat we door de organisatie zijn gevraagd hieraan bij te dragen.
Meer dan 20 sterke mannen zullen de regerend meervoudig Nederlands kampioen Jarno Hams zondagmiddag uitdagen tijdens het vrachtwagen trekken, boomstam tillen, de Hercules Hold, de Wheel Flip en de strijd met de grote stenen.
Het evenement is gratis toegankelijk en duurt van 13.30 tot circa 18.00 uur
Voor degene die zondag de mooiste foto maakt leggen we een kledingbon van 25 euro klaar. Wat moet er op de foto staan? Een of meer van de sterke mannen in actie voor of bij ons reclamebord.
Mail de foto naar SterkeMan@ForGreatMen.nl en win die bon!
De winnaars worden op onze site bekend gemaakt.